Introduction for the Use and Maintenance of Equipment for Oxygen Blowing/Lancing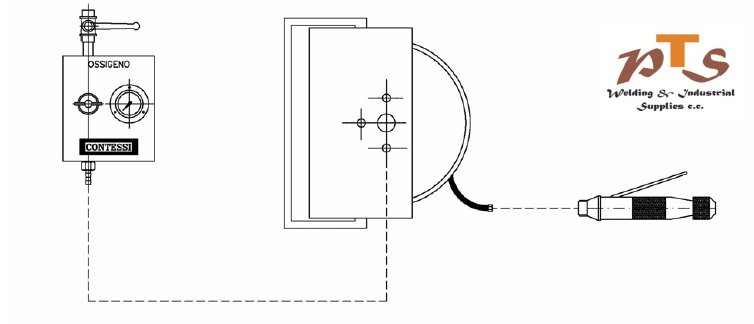 WARNING: NEVER USE THE EQUIPMENT WHERE THERE IS OIL OR GREASE PRESENT INCLUDING CLOTHING.
ASSEMBLY
Join the tap post-pressure reducer, endowed of the safety valve, to the take up reel, then connect the lance holder to the hose of the take up reel.
Check all the hoses are in good condition and conform to UNI EN 559 'flexible hoses'.
Check the integrity of the safety valves, replace them at least every 5 years or before if they show signs of wear or damage.
USE
Put the lance into the end of the lance-holder without rotative movement.
Hand tighten the locking nut.
Open the oxygen main shut-off valve mounted before the pressure reducer.
Adjust the pressure to the required amount.
Warm the tip of the lance using a suitable heat source.
Light the lance by slowly opening the lever of the lance holder until fully open.
Once work has been completed, remove lance from molten pool, hold the lance horizontally for a few seconds with the valve fully open, to allow any slag to disperse.
Finally close the main valve on the pressure reducer.
IN ORDER TO ENSURE SAFE AND FULLY FUNCTIONAL EQUIPMENT, ALWAYS USE GENUINE